The majority of horse businesses involve customer horses. A horse business that involves customer horses has a considerable responsibility to both the horse and the horse's owner. The business owner is obligated to provide a safe and healthy environment for each and every horse.
In the majority of horse businesses, horses are leaving and returning all the time. Therefore, it is the business owner's responsibility to make sure each and every horse is included in a well-planned, well-executed preventative care program that tracks, manages and documents each horse's preventative care status. 
A comprehensive preventative care program should include:
The monitoring of a horse's weight and temperature at scheduled intervals. A mature horse that is not feeling well will go off its feed. A young horse that is not feeling well will continue eating like a 'little piggy'. A simple way to tell if a young horse is not feeling well is to take its temperature.
The evaluation of a horse's body score at scheduled intervals and associating their body score to their nutrition plan. Feeding a horse too much is no different than feeding ourselves too much. It is not only unhealthy and can lead to serious medical problems, but it is an expense the can be avoided. Unnecessary feed cost is the obvious waste, but when you factor in all the ancillary medical cost, the time required to evaluate a horse's body score is well worth the effort. (Blog: Why Track, Manage and Communicate Your Horse's Nutrition?)
The implementation of a vaccination plan and vaccine schedule based on each horse's age, gender, use, discipline and geographic location. A vaccination plan that controls infectious diseases is an important function in any horse business. It can maximize the health, productivity and performance of horses in your care. However, you need to realize that a well-planned and well-executed vaccination plan, in the absence of good horse management practices to control infection, is not sufficient for the prevention of infectious disease. You should always develop your vaccination plan with a licensed veterinarian.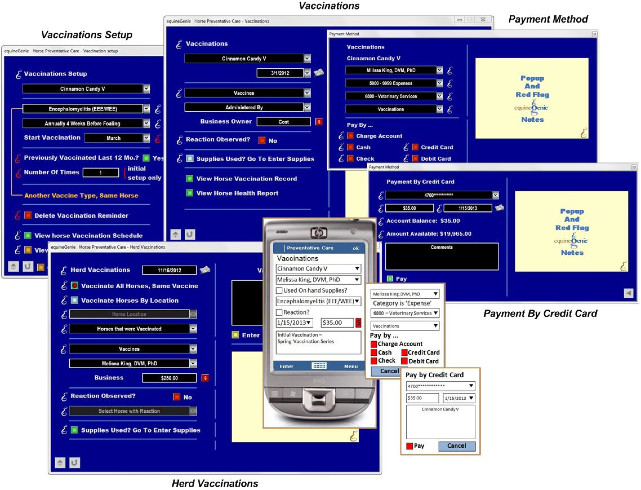 The implementation of a deworming plan and dewormer schedule based on each horse's age, use, discipline and geographic location. Establishing an effective parasite control program is as important as supplying a horse in your care with clean, plentiful water and high-quality feed. Internal parasites are silent killers. They can cause extensive internal damage without you even realizing a horse is heavily infected. All horses in your care should be part of a rotating parasite control program. Unfortunately, there is no single deworming program that suits all horses and all situations. Therefore, you should always develop your deworming program with a licensed veterinarian.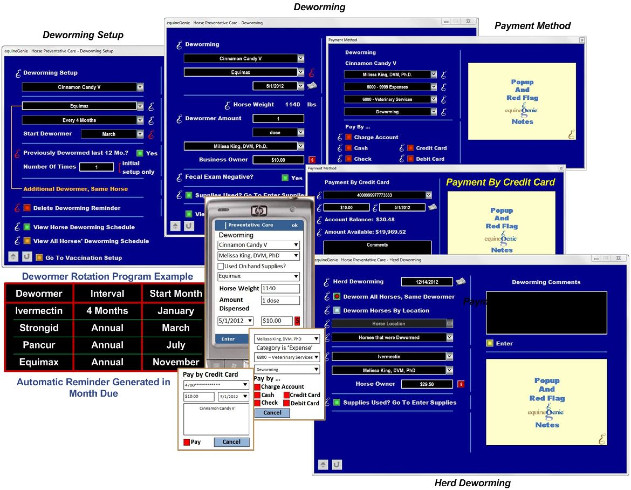 The implementation of a dental plan and examine schedule based on each horse's age, use, discipline and nutrition plan. There are many factors that affect how the teeth of a horse in your care will wear. The way their owner uses them and the discipline in which they are used will also affect the frequency with which they may require dental care. Only allow a licensed veterinarian to diagnose dental problems in a horse in your care. Only use a licensed veterinarian to help you develop a comprehensive dental plan.
The implementation of a farrier plan and farrier work schedule based on each horse's age, use and discipline. We have all heard the age old saying "no foot, no horse". Maybe I should have added "no teeth, no horse" to the dental plan. The saying, "no foot, no horse", applies to every discipline in which a horse is used, and is just as important when a horse is in the autumn of its years. Your responsibility as the business owner extends to the feet of any horse in your care. Nothing will turn a potential customer off more than seeing lame horses in your care. It might seem 'over the top', but a farrier plan and work schedule developed with a licensed veterinarian and a certified farrier should be considered.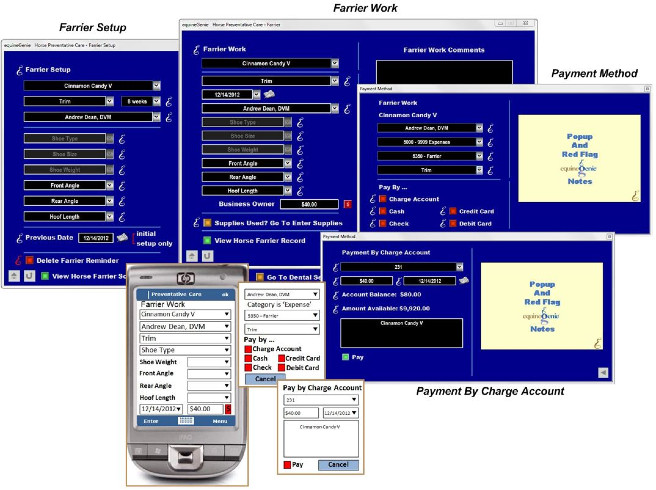 Many business owners leave the preventative care responsibility to the horse's owner. And, they generally have several excuses as to why, but none qualify as a good business decision. Have a horse return from a trainer or a show and bring back strangles or some other communicable disease that could have been prevented and see how fast your customers leave and go to your competitor. Even if you are a breeder and do not have customer horses, if your horses leave and return the same responsibility applies. You probably won't lose any customers unless the word gets out your barn has a communicable disease, but you will incur unnecessary expense, and depending on the disease, it could be very costly.
No matter what kind of horse business you are operating, a good horse business management system can help you manage and maintain a preventative care program that translates to customer care. Managing the preventative care for your customer's horses can be a competitive advantage and if priced correctly, an additional source of income. All of us love our horses and want them to have the best care possible. I suspect that excellent care for your horse trumps the cost of care as long as the cost isn't ridiculous.
A good horse business management system will provide you the following preventative care assistance that will minimize your time and effort:
The easy setup of a comprehensive preventative care program with automatic reminders when a preventative care needs to be administered.
Selectable AAEP recommended vaccines and dewormers based on a horse's breed, gender, age, geographic location, use and discipline.
Automatic reminders that are tied to a horse's use and how it is used, and then automatically reset for the next scheduled date. For example: The rhinopneumonitis vaccine that is administered to a pregnant mare at 5, 7 and 9 months of gestation. Or, a rotating dewormer plan that includes several different dewormers that are administered at different times throughout a year.
The ability to enter substitute or different vaccines, dewormers, procedures or tasks that the management system auto learns and makes available for future use.
The ability to administer a preventative care to all horses or horses in a specific location at the same time.
The financial management and accounting for any preventative care expense and any income it produces.
Update a horse's health record automatically and generate a report of the preventative care performed and the next preventative care dates that can be emailed to your customers.
Vaccination Vaccine Management Illustration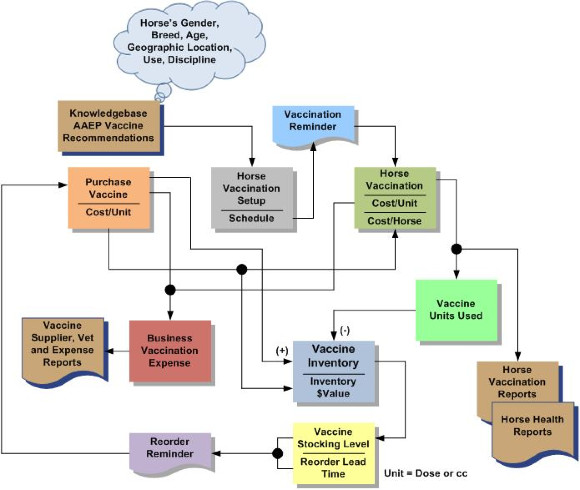 Sign up for a free one year subscription to our newsletter at info@genieatwork.com and receive a 'Genie At Work' mouse pad. Just write 'Sign me up for your Newsletter' in the subject section and enter your name and address in the content section.
Happy Trails, Good Management and Business Discipline Always!
Bob Valentine, Ph.D.
President
GenieCo, Inc.
Box 271924
Ft. Collins, CO 80527
970.682.2645 or 970.231.1455
bob@genieatwork.com