When most people start a horse business the last thing on their mind is business management. Hopefully, I can convince you why business management should be at the top of your list before the end of this blog. Now I have your attention let's break a horse business down into three simple principles.
Marketing and Sales: No customers, no business.
Income and Expenses: It's not what you make, it's what you keep.
Business Management: If you can't measure it, you can't manage it.
Most horse businesses start from a love affair with horses. That isn't a bad thing as long as you don't let your heart dominate your business decisions. Don't get me wrong – if you are in a horse business or plan to start one, your love of horses had better be on the same level as your aptitude for the type of horse business you are already in or planning. Most horse businesses require putting in long hard days. Often the only reward is the nicker when you walk by a stall or the peaceful munching of hay when you turn out the barn lights after a hard day's work.
If you are in any business there are an incredible number of things to think about and a horse business is no different. In fact, there are way too many things to list in a blog – so I will try to make it as simple as possible and still add value. The majority of horse businesses are service businesses – boarding stables, equestrian centers, training facilities, or a combination. I haven't forgotten horse breeders – I am one. Horse breeders are essential to all horse businesses – no horses, no horse businesses. But, they are not a service business. They are a manufacturing business. I wouldn't say a horse breeding business is any more or less difficult to operate, but it does have its own market and operating challenges. A simple example is cash flow. Cash flow in a boarding business is much more predictable than it is in a breeding business. Cash planning and the use of cash are important in both businesses, but critical in a breeding business because of random sales. Cash is king in all horse businesses!
Horse businesses today are primarily recreational businesses. If you are in a horse business you are not just competing against other horse businesses in your market segment, you are competing against completely different businesses that are in totally different recreational markets. You are competing for the recreational dollar – do I go skiing at Aspen for a week, or do I buy a new boat, or do I buy a horse, or do I put the horse I have in training and show it.
When people decide to purchase a horse they often have no idea as to the responsibility they have accepted. And, heaven forbid we should tell them and lose a sale. But I suggest, if you love horses you will tell them by educating them, and in the long run you will get more sales as a result. Word-of-mouth is a powerful part of sales in any horse business. Likeness begets likeness and people associate with people of like interests. So, make sure that what people are saying about your business is all 'Good'.
It all starts with being a responsive business owner, and by being responsive you can start to differentiate your business from other similar businesses and capture more of that elusive recreational dollar. There is no doubt that the economy is still in bad shape. The recreational dollar has not only shrunk, it is more informed and spent more wisely. But, in these challenging economic times the business owners who are willing to change the way they do business can create their own economic stimulus by being smarter; more organized and more efficient. The use of tools like a business management system will free up more time so you can spend that time gaining and sustaining a competitive edge. In fact, the current economic environment provides an excellent opportunity to get your business right sided and emerge a much better business with the potential to continue to gain market share going forward.
Remember, I said the last thing on a business owner's mind is business management. Unfortunately, this is the norm in the world of horses – and you know I am right. I have taught equine business at Colorado State University and I have seen it all and heard all the excuses. I say, business management should be at the top, and maybe the first thing. Why? Because business isn't about having fun, it is about having fun making money. Business success isn't about the easy decisions; it is about the difficult decisions. If you want to attract more customers, or improve your facility, or get another lesson horse it takes money. If you don't have a good business management system you probably don't have a clue as to the demands on your cash or even if you have any cash. Accounting systems only record financial transactions. They don't manage and therefore, they don't assist you in making good business decisions without a lot of external analysis. I have never seen an accounting system that tells you how much it cost to keep a horse without using additional spreadsheets. A good business management system will do your accounting and tell you how much it cost to keep a horse without you having to leave the system or spend any additional time.  I wince when I hear horse business owners tell me they just give their information to their accountant. Then I wince again when they tell me they only need to keep track of vaccinations and the farrier. At the risk of generalizing, their accountant is probably afraid of horses, never mucked a stall and doesn't have a clue about running a horse business. But, they can make financial transactions add up and balance. I am still not sure what value that adds to a business. I call running your horse business with an accounting system 'Checkbook Management' – I've got checks, I must have money. You need a good business management system that does your accounting and assists you in making good business decisions! You should know your business better than anyone else and therefore, you should know how to run it better than anyone else. You just need a business management system that frees up your time so you can do what you do best. I suggest you read my blog post on 'Selecting a Horse Management System is a Major Business Decision!'
There is some truth to the aphorism that it cost ten times more to get a new customer than it does to keep the one you have. That cost ratio is probably less today considering the computer technology, software applications, email and social networks available, but it is still a higher cost. A big part of getting new customers is developing trust and establishing an aura of expertise. People new to owning a horse or having a horse trained, etc., need to be assured that you as the horse or service provider know what you are talking about. Potential customers generally don't make decisions quickly – and they shouldn't. Therefore, you need to be able to send a potential customer away with literature or a DVD, or something that reinforces what your business offers, the benefits of horse ownership, and your horse and business expertise. You can easily do this yourself at a very reasonable cost using your business computer and some reasonably priced software. If you can't do it, get a young university student to do it for you – just make sure they are a horse lover. By-the-way, equine science students are excellent help at a very reasonable cost. They love horses and they want to be around them. Their enthusiasm will elevate the excitement around your business and that certainly doesn't hurt potential sales!
A business management system plays a role in your sales process by scheduling appointments and managing your follow up (contact management). Potential customers associate your attention to detail and interest in them with how you are going to take care of their horse.  Don't drop the ball!
Your facility doesn't have to be an equestrian estate. But, it does need to be safe and clean with the look of good management. This doesn't only apply to potential customers; it applies to keeping your current customers. A good management system will give you the reports you should neatly post for everyone to view. After all, a good management system has all the information stored in its database – use it to your advantage. The reports might include a horse's information posted on its stall, its pedigree, its nutrition plan and feeding schedule, its preventative care schedule and how much bedding it gets. There should be general barn reports neatly posted that show training, lesson, farrier and veterinarian schedules to name a few. Simple things like this will give you a competitive advantage at no additional expense if you have a good business management system.
I have often heard that if we were bigger we could compete with the 'big guys'. This is an unsubstantiated myth and often an excuse. Bigger has its own set of business challenges. Stop and think about the overhead, variable cost and inefficiencies the 'big guys' have to deal with every day. To compete with the 'big guy' you only have to be better, and being smaller makes it easier to be better. Granted, you have to have enough cash positive revenue to cover your overhead.
There are many successful 'boutique' horse businesses. Small gives you the opportunity to be unique and attract the cliental that are willing to pay for unique and special treatment. If you are small you can utilize your assets more efficiently, control your overhead better and pay more attention to your customers. A business management system will let you know how your overhead is affected and any change in your breakeven if you add another horse or lose a customer. Think about this, what if you add a horse and have to add additional barn help, but you only need 25% more barn help. Unfortunately, people don't come in 25% slices. A business management system will help you make the right decision. Do you have your barn help work a little overtime at a higher wage and reduce your operating margin or do you add the additional barn help and add some additional services to generate more revenue to cover the added expense at your current operating margin? Bigger isn't better, best is better!
I could go on with several more examples, but I think this gives you something to think about. I don't mean to imply that running a horse business is easy and a good business management system will solve all your problems, but it will help. Believe me I know running a horse business isn't easy. I live it every day. There is nothing like an 'MBA in horse business by baptism of fire'. A well respected horse friend of mine told me once, 'there is nothing like hanging to sharpen the mind'.
Underlying the success of any horse business and the management system you chose is your commitment to keep your system current and use the information it provides to assist you in making good business decisions. Believe me; you need a horse business management system! But, purchasing one if you do not have the 'business discipline' to keep it current and use it is a bad business decision, and probably not the management system's fault!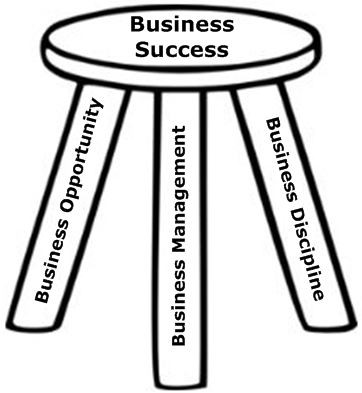 Sign up for a free one year subscription to our newsletter at info@genieatwork.com and receive a 'Genie At Work' mouse pad. Just write 'Sign me up for your Newsletter' in the subject section and enter your name and address in the content section.
Happy Trails, Good Management and Business Discipline Always!
Bob Valentine, Ph.D.
President
GenieCo, Inc.
Box 271924
Ft. Collins, CO 80527
970.682.2645 or 970.231.1455
bob@genieatwork.com